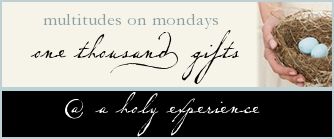 I have been hanging out, having coffee, and getting to know this beautiful woman at this blog http://www.aholyexperience.com/ for about a year now. I love her. I love her writing. I love how she makes me look deep into my heart and examine it. I love how she makes me laugh and cry with the same read. I just really enjoy this blog, more than most! So, I have decided to join her and other bloggers in the Multitudes on Monday blog posting. Its a chance to share our multitude of blessings that we are experiencing in our everyday lives. So my intention is to blog every Monday a few of the gifts and blessings I have experienced during the week. Look around and see what God has blessed you with this week. Leave a comment below and share some of them with me!
#1... coffee! I enjoy my cups of coffee with my Jesus, my friends, and by myself
#2... My husbands hands. They are rough and cracked from hard work, but the most gentle hands I have ever seen. The way he holds my hand in his....
#3... Blogs. Inspirational, funny, thought provoking, heart searching, educational.. I love reading others blogs.
#4... little boys (mine anyway). The love from them is enough to charge me for a whole day.
#5... Teen love. It reminds me of where Frank and I started and reassures me that love can last a lifetime!